Overview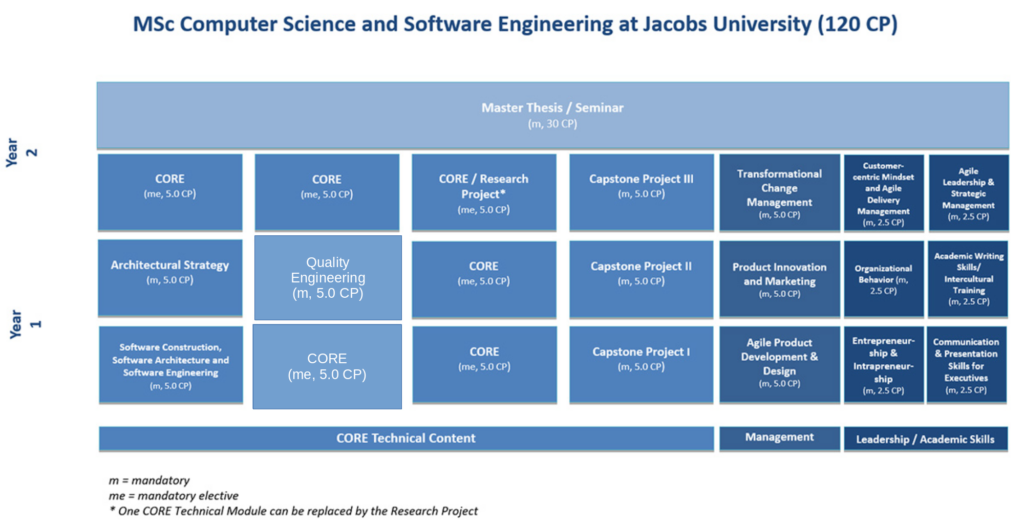 One program, two locations

Instructors of both locations jointly teach in the program.
Students will be distributed over both locations.
Company Ecosystem
Students studying in the MSc CSSE will be exposed to the network of companies related to SIT&JUB:





Opportunities:
management / leadership skills
Capstone Project
industry thesis / startup thesis
Research environment around Bremen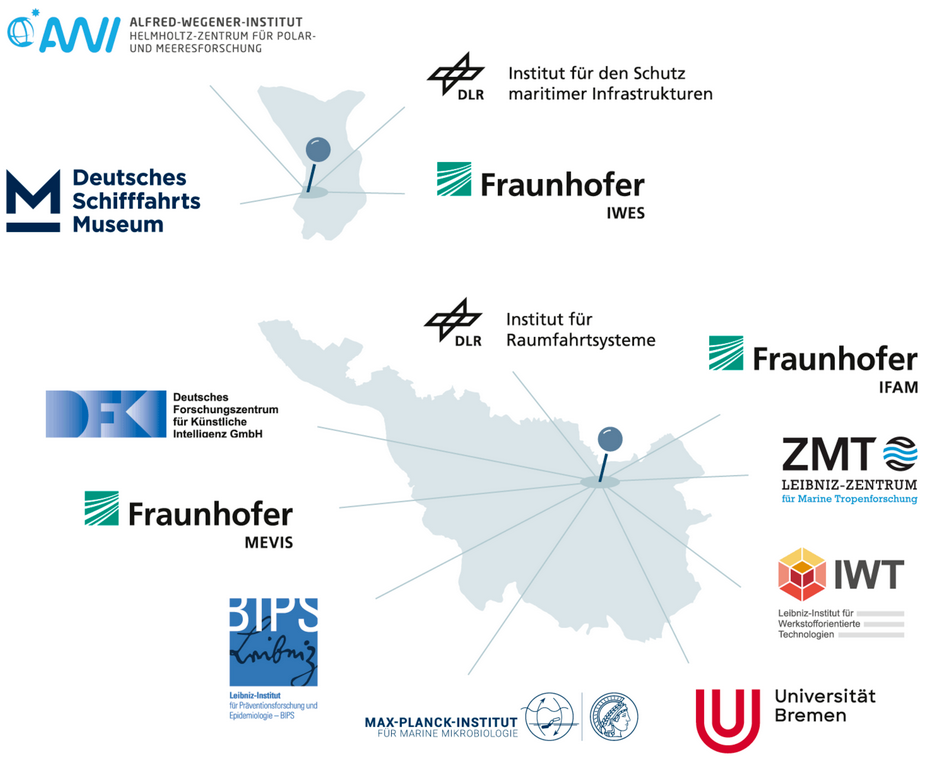 Opportunities:
Research Project & Research Thesis
PhD studies after graduation
Studying in two connected classrooms
Interesting setup
will have students both in Schaffhausen and in Bremen
one instructor (in Schaffhausen, in Bremen, or remote) teaching both student groups
How solved? Two connected classrooms
cameras & microphones : instructor, room as a whole
room view transmitted to other room
currently: table microphones for mutual interaction
Important: Room setup
JUB: Join classes via room indicated on CampusNet.
SIT: Join classes via central lecture hall of SIT.
"Virtual Classroom" for late arriving students
Decision
Admitted students of the MSc CSSE who have issues in obtaining their visa will have the opportunity to only join physically one of the locations for the exam periods, i.e. starting from December 7.
Virtual Classroom
Students login into MS Teams. There, it exists per module/course a "Team". In that Team, it will be indicated, whether students should use for the given course either Teams' built-in video conferencing solution or Zoom. The corresponding links to connect will be provided.
In case you still have no working Jacobs-Login, i.e. have no access to MS Teams with a JUB account, you will receive a message from our technical support team that will provide you per course a video conferencing link. So that should be no issue.
If you have urgent issues to get into a video session due to the technical challenges, reach out to Chris Castro (c dot castro at jacobs-university dot de).
On-site students
Joining online is strongly discouraged, even though the online link exists.
Multitude of tools
CampusNet: Registration of courses, time schedule of classes / rooms, etc.
SIT Alemira: Learning Management System used for module content in some courses. (User documentation link)
Moodle: Earlier LMS still used for some courses.
Teamwork: Document and collaboraton platform
MS Teams: Collaboration tool; sometimes used for course content

Important: Ask the instructor of each course what tools and platforms she/he will use.
What to do before the start of the semester?
Course registration!
Use CampusNet to register for the modules of the first semester.
Choose ALL mandatory modules of the semester.
Select additional modules of interest according to the graduation rules.
Course information
time and location of modules given via Campusnet
module description on CampusNet might give further information, e.g. pointers to web-pages, lerning tools, …
Always: Join first session of module. Necessary information will be provided by instructor.
Planning your studies
Main rules
Students select one of the three specialization areas

Software Engineering
Cybersecurity
Artificial Intelligence

in which they have to take all in all 20 ECTS in lecture modules out of main and suggested cross-subject content
It is mandatory to take at least one main content module (5 ECTS) from all specialization areas.
Students take all above listed mandatory modules. Remaining modules are free electives.
One CORE Technical Module in the third semester can be replaced by a Research Project in agreement with an instructor of the program.
Important tool: Study program handbook
Exemplary study plan with SE specialization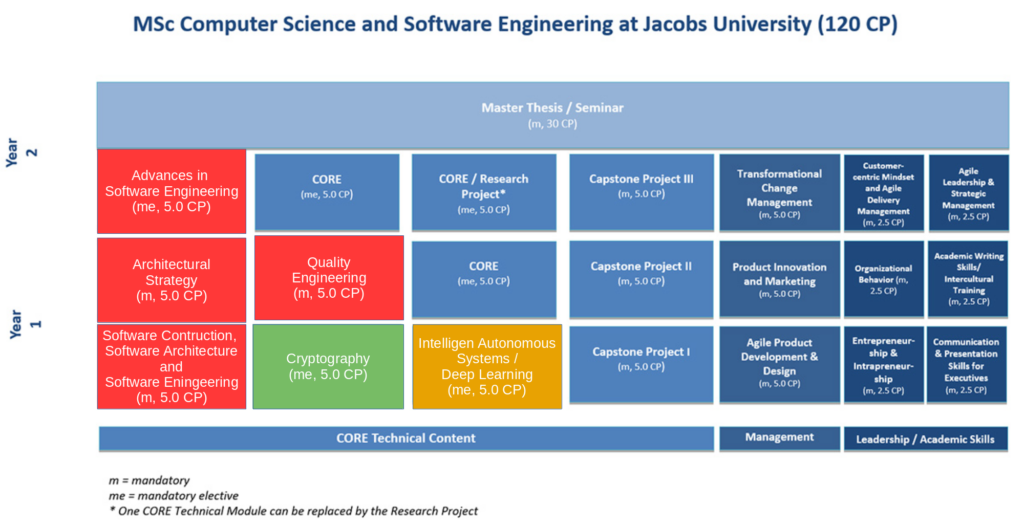 Exemplary study plan with CyberSec specialization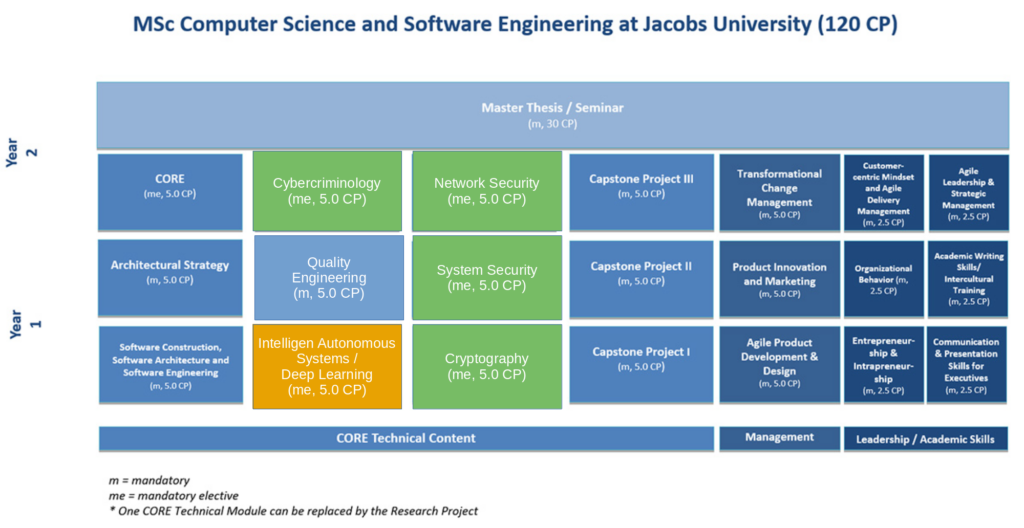 Exemplary study plan with AI specialization (w. prior knowledge)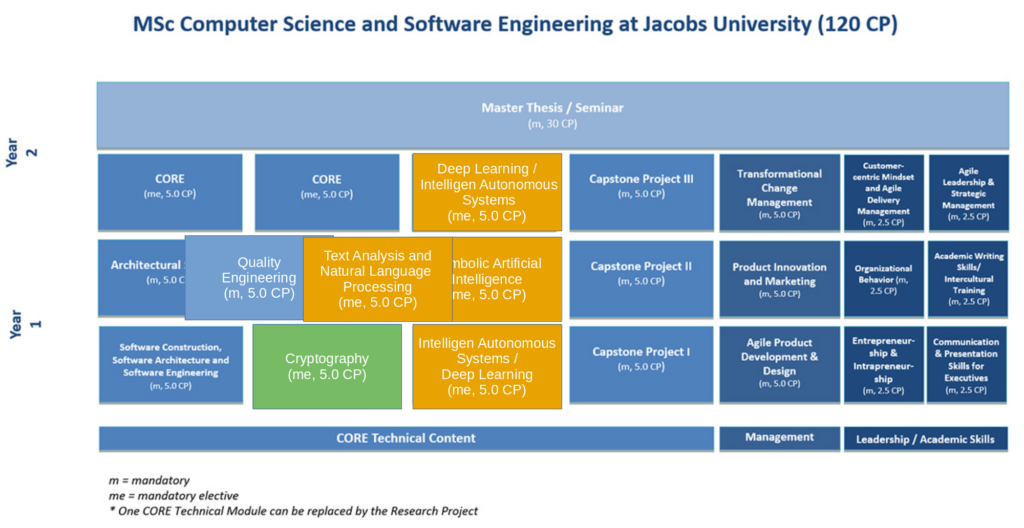 Exemplary study plan with specialization (w/o prior knowledge)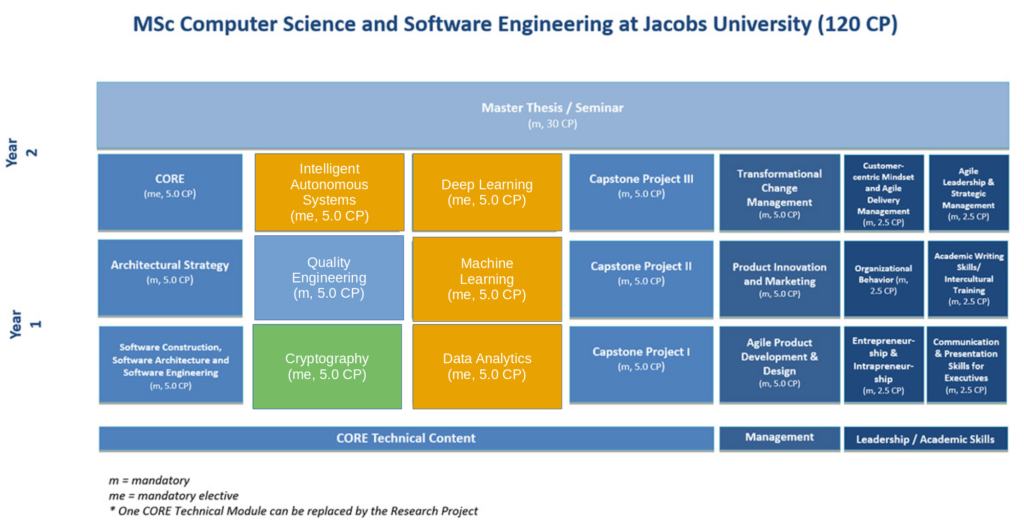 Whom to contact for what?
Course-specific questions: Instructor of records, see CampusNet.
More general need for program-related support: Your Academic Advisor.
Immediate technical issues of classes: Student assistant in the room
Non-functional university login, etc.: IT Support (ITSupport at jacobs-university dot de)
Crucial contact in Schaffhausen: Carol Fuzzard
(cf at sit dot org)
High-level program-related issues: Study Program Chair – Peter Zaspel (p dot zaspel at jacobs-university dot de)
Upcoming events
Study program info session: Tuesday 30.08., 16:30-17:30
Annual Opening Ceremony 2022: Thursday, September 1, 11:00-12:30 (live stream link)
Start of teaching: September 1, 14:15.
Questions
Questions?